High Voltage course for Indian Seafarers
What is this high voltage course, Do i need to do this course, Am i eligible to do this course? Is this mandatory? Do we have DG approved colleges in India?
I am sure there are plenty of questions in your mind, Well i have also had the same doubt in my mind so i went ahead and booked this course and completed this course and gathered some useful information which could be useful to you as well.
Why High voltage course is even discussed about?
The amendments of 2010 (Manila Amendments) to the Standards of Training, Certification & Watch keeping of Seafarers (STCW) Convention reiterate the importance of training for seafarers and the need for seafarers to be certified competent in the different areasof their responsibilities by January 2017.
Who needs to do this course?
Every marine engineering officer of management level (Chief Engineer, Second Engineer) and Electrical Officer who is working or may work in a ship that generates 1001 Volts or More and distributes it to any machinery which operates on 1001V or more.
What will happen if i dont this course?
Well, Nothing will happen if you dont do this course you can still continue to sail but when you will go to MMD for any COC related services like Apply for a new COC after competency exam or Apply for a Re-validation, MMD will stamp a restriction on your COC which states " Eligible to work on ships with 1000V or Less".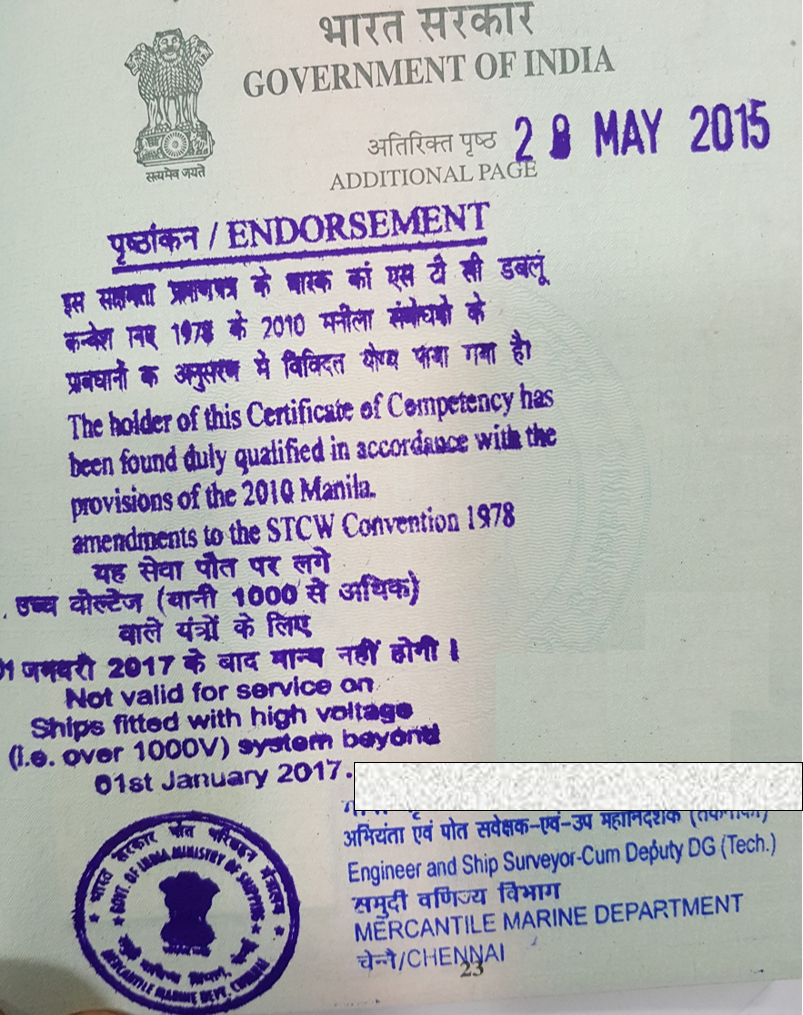 None of my company ships have 1001V or more!
Well, As i said earlier if you think you will never work in a ship that operates with 1001V or more then you dont need to do this course, Your COC will have a restriction so you may not be able to join a ship of 1001V or more.
Are there any institute in India that offers a DG approved course?
Yes, As of today there are 2 colleges in India that offers High voltage course that are approved by DG shipping.
Eligibility to do the course.
Well you need some kind of competency just to do this course they are
1. Either have prior electrical or electro-technical experience in a shipboard environment
2. Have completed 12 months sea service as an Engineer Officer of the Watch (EOOW) while holding an unlimited EOOW Certificate of Competency (CoC) STCW REg. III/1.
3. Seafarers desirous of obtaining the ETO CoC valid for High Voltage Ships have to complete the High Voltage Course as per the DG said Training Circular No. 01 of 2011, for an issuance of the ETO CoCs valid for High Voltage Ships.
4. Existing ETO with at least 12 months of sailing experience
5. Existing Electrical Officers having one year sailing experience
6. MEO Class 1 and MEO class 2 CoC holders
Institutions that offer DG Approved High voltage course
Mumbai
1. Anglo eastern maritime training center
2. BP Marine Academy
3. IMTC – (As per a user comment below)
Chennai
1. HIMT
Coimbatore
Coimbatore Marine College in Coimbatore also conducts DG approved High Voltage course every week for Management level 6 days and also Operational level for 1 Day
Course Fee 6 days Around 39000 Rs and day 7500 Rs.
Phone 0422 2612200
Other Cities
As of today, Only these 4 college in India that offers DG approved high voltage course.
About the course
Actual Name of the course is HIGH VOLTAGE SAFETY AND SWITCH GEAR course.
The cost of this course is INR 39000-40000
Duration is 6 days OR 50 Hours.
Course objectives
Satisfy the requirements of STCW 2010 and reach a higher competence level in safety awareness and technical competence.
To increase knowledge levels on various standards pertaining to safe working practices on High voltage systems.
Work on various specialized components and equipment used in high voltage installations.
Operate, maintain and troubleshoot high voltage installations safely and efficiently.
Understand and eliminate accident probability on high voltage systems.
Understand system layout and distribution arrangements.
Know the procedure of issuing permits and sanctions to test, etc..
Actual Experience from a Candidate
Basically this course is of 50 hours hence the colleges are conducting it for 6 long days. The course timings are from 07:30AM to 16:30.
There are not enough staffs who have actually worked on HV ships therefore it is kind of new for them too so they just relying too much on the information available in various books and websites.
The classes are too lengthy and boring as there is not much to learn or much to offer for the lecturers for 6 long days.
All colleges have installed a HV breaker circuit panel which is the only thing that gives you a HV feel but they are still not connected to any live High Voltage and they are simply connected to 440V as its only for training purpose.
There is also a site visit to a facility that operates on HV, We were taken to a sub station which was very useful. BP academy in Mumbai takes candidates to VJTI engineering college lab, Not too sure if there is anything that operates on HV.
The course is highly priced in all the above institutions i am not too sure of the reason.
HIMT Chennai as always very strict on attendance, Professional and strict course timings therefore we couldn't miss any session, Experienced faculties in their college made the course more useful by answering all our basic questions on electrical which were not part of HV.