Dry quills are fitted into cylinder liners external to the cooling water space, or they may pass through the cooling space but are jacketed so that cooling water does touch the quill.  Wet oil quills pass through the cooling water space  and cooling water contacts the oil quill.  It is  usual to find wet oil quills on modern engines due to the difficulties of making an oil and watertight joint at the junction between the quill and the liner.  Non-return valves are fitted at the inlet to the quill.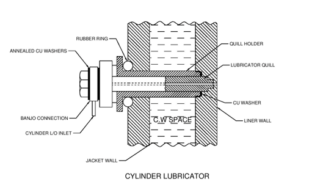 You must login to post comments
Your Answer
Please login first to submit.